LOS ANGELES (Jan. 5, 2017) – Fans of FINAL FANTASY® BRAVE EXVIUS®, the free-to-play FINAL FANTASY® mobile game, are in for a surprise this month as internationally acclaimed recording artist and actress Ariana Grande will lend her likeness to the hit RPG. The collaboration with the superstar is further detailed in a new video, which can be viewed on YouTube: https://youtu.be/NcoubpSwlEk.
As part of this collaboration, Ariana's hit song "Touch It" will be arranged as a FINAL FANTASY BRAVE EXVIUS-style remix, which can be heard on YouTube.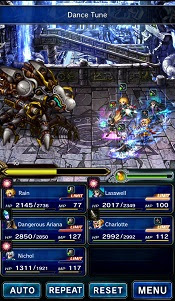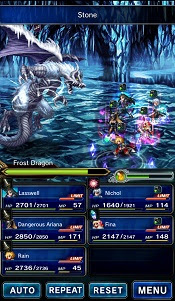 More details around the collaboration and limited-time in-game event will be revealed in the middle of January.
Square Enix also announced that FINAL FANTASY BRAVE EXVIUS has surpassed nine million downloads outside of Japan. To celebrate this special milestone, for a limited time, players will receive a significant boost in daily log-in bonuses.
FINAL FANTASY BRAVE EXVIUS is available now as a free-to-play app (with in-app purchases) through the App Store, Google Play and the Amazon App store.
Related Links:
Twitter: https://twitter.com/FFBE_EN
Facebook: https://www.facebook.com/ffbeen
This title is developed as a collaboration between SQUARE ENIX® and gumi Inc. (developer of the hit title Brave Frontier). The game is available in six languages: English, German, French, Spanish, Chinese (traditional) and Korean.
About FINAL FANTASY Portal App
The free-to-download FINAL FANTASY Portal App provides the latest and greatest on all things FINAL FANTASY, as well as exclusive promotional trailers and developer commentary. By logging in with their Square Enix account, players can accumulate points that can be exchanged for various items. Also, the iconic Triple Triad card game from FINAL FANTASY VIII makes its mobile debut, and is playable in the app.
About gumi Inc.
Founded in 2012, gumi Inc. (Tokyo Stock Exchange: 3903) is a leading global mobile game publisher and developer headquartered in Japan, with overseas operations in China, France, Korea, Singapore, Taiwan and the United States. The company has proven success in launching titles worldwide, including the widely popular role playing games Brave Frontier and Phantom of the Kill. With ongoing publishing and development projects on various platforms, including iOS, Android, and more, gumi aims to change the world through innovative entertainment products and services, including both original content and collaborations with popular IP. For more information, please visit http://www.gu3.co.jp/en/home-en/.
About Square Enix, Inc.
Square Enix, Inc. develops, publishes, distributes and licenses SQUARE ENIX®, EIDOS® and TAITO® branded entertainment content throughout the Americas as part of the Square Enix group of companies. Square Enix, Inc. is affiliated with a global network of leading development studios such as IO Interactive™, Crystal Dynamics® and Eidos Montréal. The Square Enix group of companies boasts a valuable portfolio of intellectual property including: FINAL FANTASY®, which has sold over 115 million units worldwide; DRAGON QUEST®, which has sold over 68 million units worldwide; TOMB RAIDER®, which has sold over 46 million units worldwide; and the legendary SPACE INVADERS®. Square Enix, Inc. is a U.S.-based, wholly owned subsidiary of Square Enix Holdings Co., Ltd.
More information on Square Enix, Inc. can be found at http://na.square-enix.com/.
FINAL FANTASY: BRAVE EXVIUS © 2016 SQUARE ENIX CO., LTD. All Rights Reserved. Developed by gumi Inc.
ILLUSTRATION:© 2014 YOSHITAKA AMANO
DRAGON QUEST, EIDOS, FINAL FANTASY, BRAVE EXVIUS, the FINAL FANTASY BRAVE EXVIUS logo, FINAL FANTASY PORTAL APP, SQUARE ENIX, the SQUARE ENIX logo, SPACE INVADERS, TAITO and TOMB RAIDER are registered trademarks or trademarks of the Square Enix group of companies. All other trademarks are properties of their respective owners.