What's better than chasing down Templars in Victorian London? Chasing down the most infamous serial killer ever known in Assassin's Creed Syndicate's new expansion, which arrives this week on PS4 and Xbox One.
The latest entry in the Assassin's Creed franchise get its first DLC this Tuesday, sweetening the stack for what is already a great game by all counts (review coming eventually!) The DLC will be available next week on PC, but console owners can get their playtime sorted and share their watercooler moments the next day, which I look forward to hearing about on Twitter, where I am AustinBelzer.
For the full list of new releases coming to current-gen, last-gen and PC, read below. Enjoy your new releases!
New Releases: December 15th, 2015
Assassin's Creed Syndicate Jack the Ripper DLC (PS4 & Xbox One Digital Expansion)
The streets of London are filled with fear and Evie Frye is on the trail of one of history's most mysterious killers," Ubisoft's official description reads. "The new Assassin's Creed Syndicate Jack the Ripper campaign puts you in the shoes of Evie once more as she returns to London after being absent for 20 years.
Blazerush (PS4 Digital Title, Out Wednesday)
BlazeRush is a dynamic arcade racing survival game with no health, no leveling and no brakes! You can assemble a team of friends to play in local or online multiplayer. Adapt your style and tactics to new enemies, obstacles, and tracks.
Ghost in the Shell: Stand Alone Complex — First Assault (Steam Early Access)
Stronger, faster and more lethal than mankind's deadliest soldier: You're a member of Section 9, an elite force of cybernetically enhanced combat operatives responsible for protecting society and fighting terrorists on the neon drenched streets of a futuristic Japan.
Goodnight Butcher (PC Digital Title)
Goodnight Butcher is an arcade-style horror game with an isolated, heart-pounding atmosphere which shifts seamlessly between running your butchery and running for your life.
Hatoful Boyfriend: Holiday Star (PC Digital Title)
The loveable birds of Hatoful Boyfriend are back in the remastered holiday-themed sequel Hatoful Boyfriend: Holiday Star!
King's Quest: Chapter 2 — Rubble Without A Cause (PC, PS3, PS4, Xbox 360 & Xbox One Digital Expansion)
King's Quest – Rubble Without A Cause is the second of five chapters in the new, critically acclaimed reimagining of the classic King's Quest game series. In this latest adventure, King Graham takes players back to his first test as ruler of Daventry. When a mischievous horde of goblins takes his kingdom hostage, a newly crowned and woefully unprepared Graham must rise up to free his people and prove himself the leader he was destined to become.
Minecraft: Wii U Edition (Wii U Digital Title)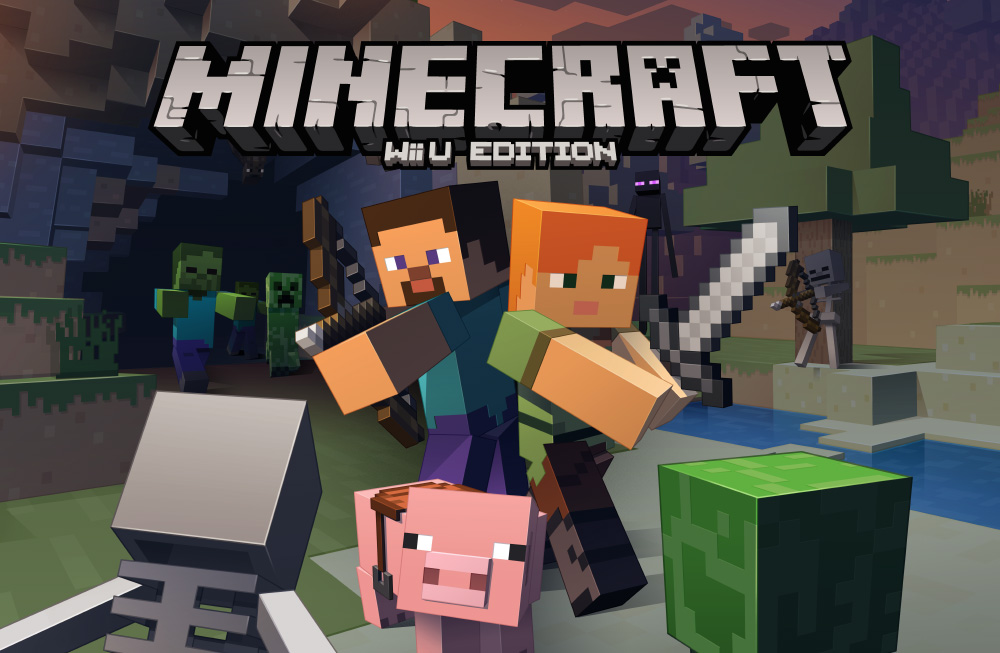 Minecraft will be heading to the Nintendo Wii U this week. You know the drill.
PaRappa the Rapper 2 (PS2 Classics on PS4)
The original Rap star's back in the house! See if you have enough rhythm to keep the beat with everyone's favorite rappin' puppy. Parappa the Rapper returns with all new songs to keep your head boppin' and PS4 bumpin'.
Squad (PC Digital Title)
Squad is a 50 vs 50 multiplayer first-person shooter that aims to capture combat realism through communication and teamplay. Major features include vehicle-based combined arms gameplay, large scale environments, base building, and integrated positional VoIP for proximity talking & radio.
Tony Hawk's Pro Skater 5 (PS3 & Xbox 360 Digital & Retail Title)
Tony Hawk's Pro Skater 5 offers a fresh take on combo-driven skateboarding. Ride, build, & repeat!
TowerFall Ascension (PS Vita Digital Title, Dark World DLC also available)
TowerFall Ascension is the definitive version of the hit archery combat game. The core mechanics are simple and accessible, but hard to master — and combat is fierce. The Dark World expansion is also available this week!